Now in our 12th year of creating and performing extraordinary dance
in Oregon's Rogue Valley
310 Oak Street, Ashland, OR 97520 • 541-488-9683 • info@dancingpeople.com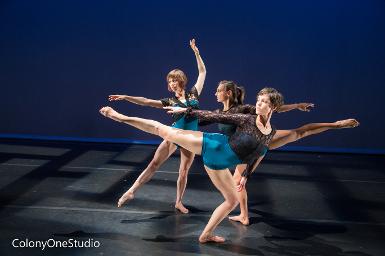 Classes
DPC also has a school, teaching a variety of dance lessons in Ballet, Modern/Contemporary, Hip Hop, Jazz, Improvisation and Creative Movement for students 5-70. Check out our Class Schedule page for more info.
Registration is now open for our Fall classes which start on September, 14th, with new expanded offerings for young people.
We're especially excited about our new Junior Company, an intensive program for 12-teens that involves 8 hours of study and rehearsal each week, with performance opportunities!
Come check it all out at our Open House, Sunday August 23rd from 12-5pm. Meet our teachers, take a sample class or just see what our studio is all about.
Schedule:
12-12:45 Contemporary, Jessica Wallace, ages 10 and up
12:45-1:30 Ballet, Megan Duling ages 7 and up
1:30-2:15 Jazz, Jessica Wallace, ages 10 and up
2:15-3 Creative Movement, Megan Duling, ages 4-6
3-3:45 Contemporary, Jessica Wallace, 7-12 yr olds
3:45-4:30 Hip Hop, Jessica Wallace, ages 10 and up
4:30-5 Modern for Adults, Doug Hooker
It will be a fun day - take as many sample classes as you want - FREE!
Classes for adults are ongoing through the summer.
Below, some of our students in "Call Back The Sun"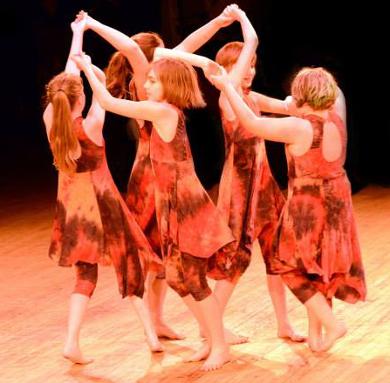 About Us
Dancing People is a professional, national-caliber modern dance company, based right here in Ashland, Oregon. We perform over 40 times a year in the Rogue Valley, from fully produced stage shows, to informal shows in Ashland's beautiful Lithia Park, to our "Call Back The Sun" Winter Solstice celebration.
Robin Stiehm is the Founding Artistic Director and choreographer for DPC. Her work has been described as fluid, musical, emotional - one review said "abstract in the best definition of that elusive term - emotion contained and transfigured by form."
As a non-profit, 501(c)(3) organization, Dancing People depends on the support of its community. Would you like to help quality dance thrive in the Rogue Valley? You can, by donating now!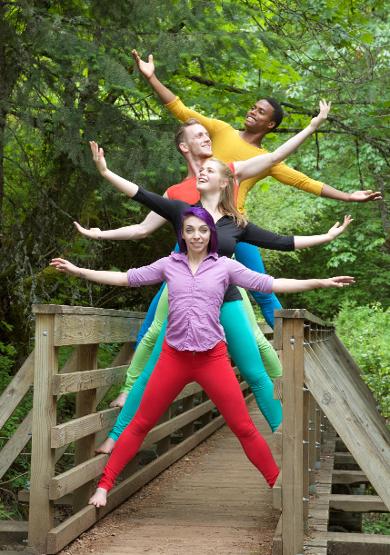 Photo: Michaela Begg, photosbymichaela.com
"OSF Greenshow" Oregon Shakespeare Festival, October 10, 2015 6:45pm FREE!

For this, DPC's second Greenshow this season, DPC will be collaborating with Berkeley Morris, in a fun mash-up of styles, Morris Dance meets Modern Dance! Who knows what will come of it? Come to the show on October 10th and find out!
Call Back The Sun, Winter Solstice Celebration, December 19-20

It's not too early to put this on your calendar. Rehearsal for the Solstice Community Group will start in October, email info@dancingpeople.com for more info - performances in December!