13 years of extraordinary dance in Oregon's Rogue Valley
310 Oak Street, Ashland, OR 97520 • 541-488-9683 • info@dancingpeople.com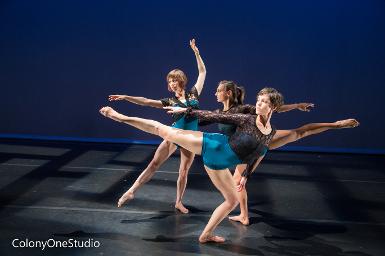 Classes
DPC also has a school, teaching a variety of dance lessons in Ballet, Modern/Contemporary, Hip Hop, Jazz, Improvisation and Creative Movement for students 5-70. Check out our Class Schedule page for more info.
Space is still available in all our Fall classes.
Below, some of our students in "Call Back The Sun"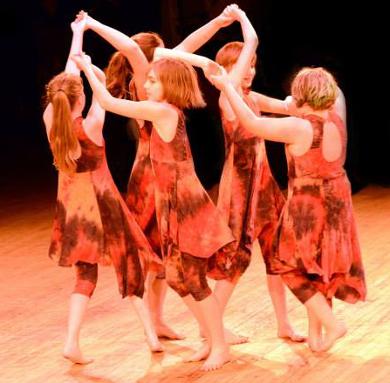 Spring Visions:
A Salon Celebration
Friday, April 29, 8 pm
Saturday, April 30, 8 pm
Sunday, May 1, 2 pm
Monday, May 2, 8 pm
At the Dancing People Studio
310 Oak St, Ashland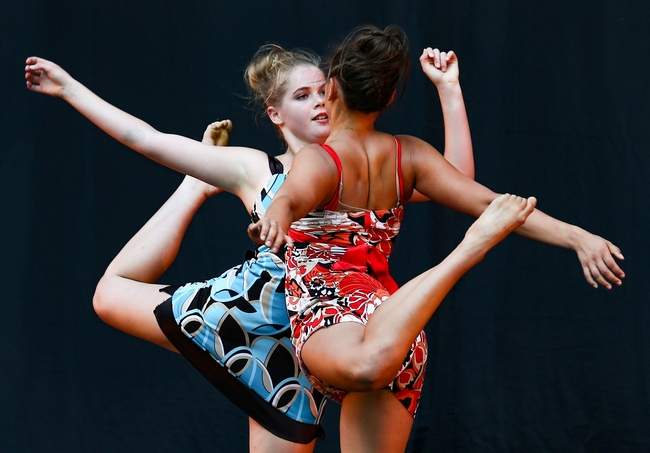 About Us
For immediate release
After twenty-one fruitful years, Robin Stiehm has announced her plan to step down as Artistic Director of Dancing People Company at the end of the current season of school residencies.
Robin expressed that "I'm looking forward to this next phase in my life and having time to focus on my artistic pursuits without the distractions of maintaining a dance company. I plan on Dcontinuing a warm relationship with Ashland's own dance company."
Stiehm founded DPC in Minneapolis, Minnesota in 1994 and quickly gained a reputation as an innovative and cohesive modern dance choreographer. In 2003 Stiehm relocated the company to Ashland, Oregon where it has developed a strong base of support and community involvement.
According to board member Robert Head, "Dancing People Company is forever indebted to Robin. She is our founding visionary and a master choreographer that has given so much to this community for more than twelve years. As we look to the future, we look forward to carrying the torch of extraordinary, evocative dance that she has given this organization. Robin has inspired us to insist on professional dance as an essential component of this exceptional community."
The company's ongoing programs and services are being carried forward with existing staff supplemented by guest choreographers. With funding in place for a new Development Director position, the organization is well positioned to navigate this leadership transition. A national search for a new Artistic Director is underway.
DPC will be hosting performances by the company celebrating Stiehm's contributions to the Southern Oregon community April 29-May 2 in the Dancing People studio.
Dancing People Company is a professional contemporary dance company now in its 13th season in Ashland. The company performs widely in the Rogue Valley communities and tours nationally and internationally. DPC's school of dance and residency programs adhere to the philosophy that dance is an accessible art form that illuminates the commonality of human experience.